Pagie Walk
Images from Pagies past are at the bottom of the page.
---
"For man's inhumanity gein untae himsel,
There's a watter sae bricht an pure,
For auld Pagie's Burn, hauds secure wi'in,
A guid Ner'erday hangover cuir!"
---
Pagie Walk 2011

Fine day for a Ne'er Day walk
-
Gazette
Firm support...for the Paigie Walk continued as more than 30 revellers took part
DESPITE the alternative attraction of the New Year Old Firm football match, 33 stalwarts ascended Pagie Hill in Douglas, sampled some spring water and welcomed in 2011. In contrast to the previous year when two feet of snow had made the going very difficult, it was a fine day for the 2011 walk. There was much banter and more than a few witty comments about the new table that master craftsman Jim Smith had built to support the revellers' refreshments.
Jim and Tom Gold asked for a few moments of quiet reflection on the loss in 2010 of the Pagie Bard Eddie McLaughlin,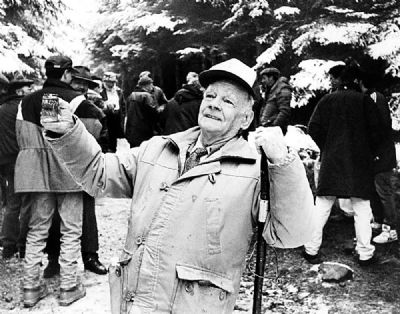 and those other absent friends who have graced the Pagie Walk over the years. Eddie's last poem was ably recited by his son-in-law Basil Clelland.
The solemnity of these few moments were respectfully marked before the celebrations began and the Pagie spirit took over. Aided by refreshments left by Eddie, Frazer Goodwin led the group in singing the Pagie Water Song, followed by a variety of songs from Tom Gold, Jim Smith, Kenny Sludden and Colin Graham.
Kenny Young Jr, and young Charlie Mooney were refreshing additions with some great songs, roundly applauded by all. New acquaintances were made, auld yarns repeated and there was much camaraderie, before the lads descended the hill, ready to take on any adversities the New Year might bring.
Carluke and Lanark Gazette
13/1/11
---
2010 Pagie walkers by Jim Smith

It was a picture postcard view of the snow covered village for a record count of 54 walkers as they climbed Pagie Hill for the traditional New Year celebration. First up were Tom Gold, Malcolm Currie, and Jake Ramage, whilst Jim Smith and Kenny Sludden ensured the Pagie Water was running clear for the ascending pilgrims. Two feet of snow made it hard going but the magical effect of the Pagie Water soon revived even the weariest of revellers.
The company contained a couple of lads from West Bromwich, friends of John and Francis Ramage, and Tam Neil came through from Lanark to battle his way up the hill for his first Pagie Walk.
Kenny Sludden and Fraser Goodwin enjoying the Pagie Water...cheers

Fraser Goodwin got the proceedings going with the Pagie Water toast before Jim 'Buff' Johnstone was given a rousing cheer for his rendition of Paper Roses.
There was then a wide variety of songs and stories as Colin Graham, Harry Thomson, Neil Cowan, Goldy, Wee Jake, Kenny, and Frazer, entertained the large gathering. The company was now in fine fettle and there much enjoyment and camaraderie among young and old as they celebrated in style.
The way down proved a bit difficult for a couple of the walkers, who succumbed to the powerful effects of the Pagie Water but there was plenty of assistance on hand to ensure they made it safely home.
A big thanks to Neil Cowan, and Stephanie, who laid on pie and peas for the lads before they carried on to continue the celebrations in the pub. All were agreed that this had been one of the best Pagie days for a few years.

---
PAGIE WALK 2008
Picture by Jim 'Smudger' Smith
If anybody saw a strange character equipped with tools, pipes, and timber up on Pagie Hill before the New Year started, they needn't worry as it was only Jim Smith ensuring the Pagie burn was running clearly and that the walkers would have a suitable platform to hold their bottles and glasses on the annual walk on 2nd Jan 2008. Malkie Currie was first up, and joining the regular walkers this year was Douglasian Billy Smith, now resident in Kilmarnock, but back home for the festive celebrations. Despite his recent setbacks wee Jake Ramage was determined not to miss the shindig, and battled up the hill to join the party – good on you, Jake. Frazer Goodwin and Colin Graham were the tail enders this year, having just finished bringing in the New Year, swelling the number of walkers this year to thirty-six. Absent friends were remembered as Kenny Sludden led the company in the singing of the Pagie Water Song. Buff Johnstone was in fine form as he gave a rousing rendition of his favourite song 'Paper Roses, the resultant cheer could be heard from Glebe Avenue; then Goldie got the company going with his usual medley. Colin and Frazer got into the spirit of things, not that they needed much topping up, with a number of songs and recitals, including the Miners Song and Barnacle Bill the Sailor. In a reversal role that surely takes some beating Buff shepherded his mate Bobby Ramage down the hill, lecturing him on the evils of the demon drink. It was a quieter year than usual but an enjoyable get together none the less. Basil Clelland read out the annual Pagie Walk poem compiled by Eddie McLaughlin

Pagie Poem 2008

A HAPPY NEW YEAR TO ALL YOU LADS,
WHO HAVE GATHERED HERE TODAY,
WHO GOT UP FROM YOUR LAZY BEDS,
TO CLIMB OLD PAGIE BRAE.

TO MEET ONCE MORE TO CELEBRATE,
THE NEW YEAR JUST BEGUN;
A MEETING ON THIS SPECIAL DATE,
WHICH TAKES SECOND PLACE TO NONE.

THIS "PAGIE WALK" IS QUITE UNIQUE,
TO THIS OLD DOUGLAS TOWN;
ANOTHER WOULD BE HARD TO SEEK,
THAT'S HELD WITH SUCH RENOWN.

FOR MANY YEARS WE'VE GATHERED HERE,
IN FELLOWSHIP WITH EACH OTHER;
TO SING OR JOKE WITH MUCH GOOD CHEER,
AND GREET EACH ONE AS BROTHER.

SO, NOW THIS TOAST I'D LIKE TO GIVE,
AS I RAISE MY GLASS ON HIGH;
MAY THE "PAGIE WALK" FOREVER LIVE,
AND OUR FRIENDSHIP NEVER DIE.

Eddie McLaughlin 2/1/2008.
---
Pagie Walk 2007
Pagie Walk 2007 - © Jim Allison
After the gales, which curtailed the Hogmanay celebrations, the weather was fine and clear for the Pagie Walk when thirty-six hardy souls made the annual 2nd of January pilgrimage to the Pagie spring to partake of its invigorating properties.

Willie Drennan (below - the yin with snaw on his heed!) was in his usual place organising the day, ably assisted by Jim Smith who has now been given the task of ensuring a good supply of clear Pagie Water.

The day started with a very poignant tribute to the late Tam Smith led by Tom Gold. Tam and his wife Jenny supplied sustenance and refreshments to the walkers for a number of years as they passed Midtown on their way up the hill. Tam then used to join the company and continue in the revelry. For a short while the Pagie Hill was silent as Goldie called for a period of silence in remembrance of an absent friend.

As Tam himself would have wished, the celebrations then started with Buff Johnstone just about managing his party piece – Paper Roses, before his voice and his legs gave out at the same time. Basil Clelland read an address to the walkers from Eddie McLaughlin, after which Tam Gold and Kenny Sludden led the company in a series of songs and poems. Jim Allison then paid tribute to his late father Archie with a moving rendition of Bonnie Galloway.

© of Jim Allison
L-R
Tom Gold, Davie Murphy, Willie (the water) Drennan, Fraser (BB) Goodwin, Malcolm (wee Malky) Currie and Colin (Buff) Graham

Fraser (Barnacle Bill) Goodwin (above centre) was in fine form with a number of songs and stories, which got the crowd going before Colin Graham (above - far right), commanded the best of attention with the Miners Song. There was plenty of singing and even some dancing, followed by much reminiscing and story telling as the Pagie Water took effect and brotherhood became the order of the day.
If the Pagie Walk does nothing else than bring together a diverse group of guys between 18 and 80 in a spirit of friendship and celebration then it will have more than served its purpose. It was another grand day and a fitting tribute to Tam 'Dram' Smith, Pagie stalwart and all round good guy.

KS '07
---
Pagie Walk 2003
PAGIE WALK 2006
The 2nd of January dawned fine and sunny for the annual Douglas Pagie Walk as Forty Seven stalwart men ascended the slopes leading to Pagie Hill, in search of sparkling rejuvenating water which comes gurgling from the hillside.

When their goal was reached the fortifying properties of this unique elixir was soon in evidence (aided by a drop of John Barleycorn) as aches and pains disappeared, hangovers were forgotten and even Bobby Ramage broke into a smile.

Tom Gold gave the Pagie toast, and a farewell verse or two from Eddie McLaughlin; who has finally hung up his Pagie Walking boots, was very ably recited by his grand-daughters husband, Basil Clelland. (see below)

The Usqueba was taking effect, and soon feet were tapping and hands clapping as the traditional Pagie Water song was sung. The company was in fine form as Jim Johnstone, Kenny Sludden and Tom Gold got the entertainment going. They were soon followed by Colin Graham, Kenny Young Jr, Fraser Goodwin, Jake Ramage, Steve Grainger, Neil Cowan and Stevie Gillan.

The Pagie walk is now established as an important event in the Douglas valley. It brings together young and old, e.g. 'gies yer haun ah kent your faither', and forges mutual respect among the revellers. Faces are put to names, visitors are warmly welcomed, and camaraderie is the order of the day.

The celebrations continue in the Cross Keys and the other hostelries where the festive spirit is still alive and kicking, as villagers who now live elsewhere, return home to a Guid New Year welcome.

K S '06

Pagie 2003, Eddie McLaughlin reads from his Pagie Water Chronicles.
© of Lindsay Addison
"The Pagie Bard"
hings up his walkin' shuin'
Twenty seven years ha'e gane,
Since furst the madness took ma brain,
When ah decided oan ma ain,
Tae climb that brae;
Despite the bitter sleet and rain
On "Pagie Day"

Noo every year since then, bar yin,
Ah've climbed up tae the wids abin,
Sometimes soakit tae the skin,
And numb wi' cauld;
Tae toast the auld year oot, new yin in,
Wi' young and auld.

But noo ah think it's time tae quit,
For efter a' ah've done ma bit,
And at ma years ah'm no' sae fit,
In weather raw,
Tae staun' for 'oors or maybe sit,
In drivin' snaw.

So in these lines ah'll say "Adieu",
Tae a' the fun at the "Pagie Do",
And tae a' the lads many thanks are due,
But, alas and alack;
Ah'm sorry tae say these words tae you,
"Ah'll no' be back".

© of Eddie McLaughlin 2006
"The Pagie Bard"
---
The Pagie Song "PAGIE WATTER" is set to the tune "Bonnie Lass O' Fyvie" and is sung by the Pagie walkers as part of this yearly tradition.
Oh dear are the rivers O'Scotland tae me,
As seawards they glide in their glory O,
The Forth, Clyde and Tay and the Don and Dee,
Immortal in sang and in story O.
The torrents that sweep doon the mountainside steep,
The lochs deep and dark in the gloamin' O,
The rock-strewn shore, where the clashin watters roar,
Fill ma hert when ma country ah'm a roamin' O.
But up on the hillside abune Douglas toon,
Where pine trees and bracken are growin' O,
Frae oot the wids aroon, wi a happy chucklin soun',
A wee crystal burnie comes a'rowin' O.
Its watters are pure as the snaw on the hill,
Its ripples, the bright sun-rays shatter O'
And dearest tae me still, is that bonnie wee bit rill,
Old Douglas's ain Pagie Watter O.
© of Eddie McLaughlin
The other tradition is the Pagie Water Toast, and was usually given by Eddie McLaughlin himself.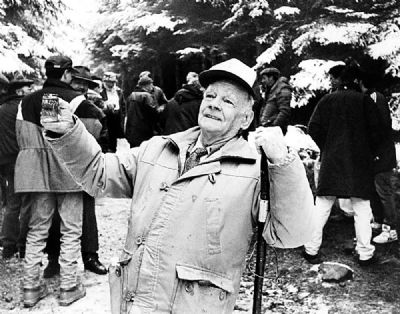 © of Lindsay Addison
Even as this chucklin stream emerges briefly from the dark,
to sparkle for one moment in the sun,
so life itself is but one momentary spark,
in darkness of time, for each and every one.
Then, as in increasing fleetness each year goes past,
lets make the most of time in every way,
for life in every case is short and fast,
too precious to waste even one single day.
Now, raise your glass in welcome to yet another year,
and in remembrence of the year we've left behind,
remember too, to top your glass with Pagie Water clear,
and may absent friends be ever present in your mind.
© of Eddie McLaughlin
Hagshaw Hill and Douglas Valley now in view from Pagie after the removal of part of Townhead Woodland.
© of Lindsay Addison
Copyright of Lindsay Addison
Copyright of Lindsay Addison
Copyright of Lindsay Addison
Click HERE for Pagie Walk map
---
Images below are the copyright of Lindsay Addison
Click on the images to enlarge.
---