Aerial Views
Douglas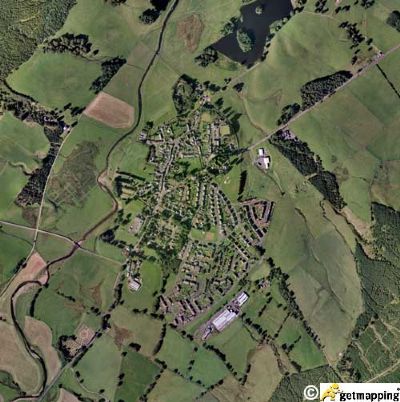 Douglas showing from the cemetery (bottom left), Long Plantation (top left), A70 (bottom left - top right) and the Stable Lake (first pond) and its two islands, in the Policy grounds (top right).
---
Glespin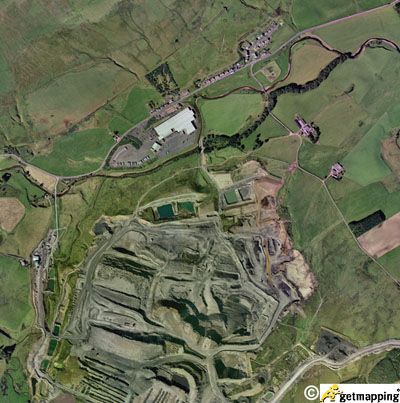 Glespin showing Glentaggart Open Cast Coal Site, Ramage Distribution, A70 (centre left - top right) and the village (top right).
---
Below are various aerial views from the Douglas Valley and surrounding area.
Looking east over Scotlands first mainland wind farm on Hagshaw Hill , Douglas.

---
Old Douglas (conservation area) and the first pond (Stable Lake)
---
Castle Dangerous (top right of picture) overlooks the floodwaters pond; now a natural haven for wildlife, and Douglas Water river from which the pond is fed.
---
Douglas Main Street and bank brae meeting at Crossburn on the A70.
---
Dalquhandy
The enormous flooded hole; some 150ft deep, left at the former and unrestored land at Dalquhandy Open Cast Coal site.


More flooded "moonscape" at Dalquhandy looking towards Poniel.
---
Glentaggart
Operational Open Cast Coal excavation at Glentaggart adjacent to Glespin village.

---