Wildlife in the Douglas Valley
The Douglas Valley, which stretches from the source of its life blood, the Douglas Water on the side of Cairntable, to Sandilands near Lanark, where it meets the river Clyde, is home to a rich diversity of plant and animal life.
Dark peat at its source, where it embraces undulating heather hills down to Parisholm, gives the river its dark colour. Heather moorland is a semi-natural habitat as it has evolved under the influence of human activities, evolving since the start of clearance and grazing thousands of years ago. Dwarf heathers are the dominant plants of heather moorland. The actual mix of species is dependent on the soil, climate, altitude, grazing and competition between the species. Other plants associated with this habitat are grasses, ferns, lichens and liverworts. This combination of plants give the landscape a rich red and brown hue. The resultant habitat provides a haven for birdlife including Red Grouse, Golden Plover, Merlin, Short Eared Owl, Hen Harrier, Curlew, Wheatear, Meadow Pipit and Skylark.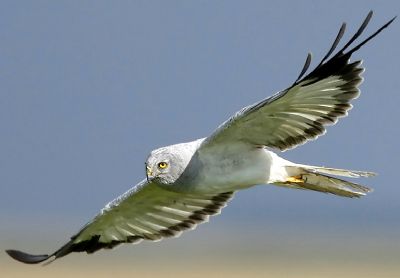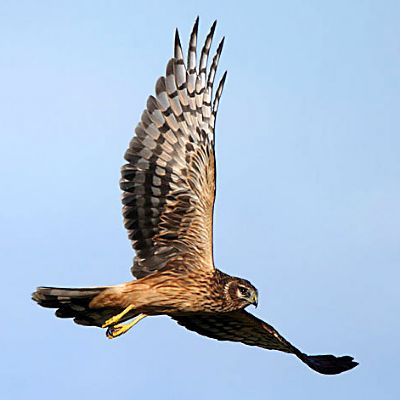 The beautiful and much persecuted Hen Harrier

Whilst on the hill sides and bordering forests Field Voles, Stoats, Roe Deer and Red Fox reside.
Brown and ochre hues turn to shades of green as the valley broadens out where it embraces the villages of Glespin, and Douglas, and is fed by a number of tributary rivers and burns, draining from the surrounding uplands. This drainage network is an important landscape feature and is perhaps of greater importance for its nature conservation interest. Many of the woodlands and grasslands of interest, and associated species, are now to be mainly found along, or are even restricted to, various water courses. There are a wide diversity of broad leaf trees, conifers, and shrubbery.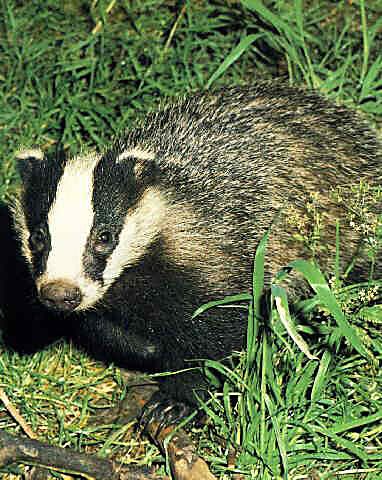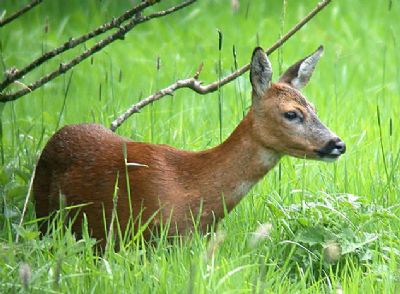 The river and ponds are home to Brown Trout, Greyling, Perch, Pike, Eels, Newts, frogs, and many small crustaceans and invertebrates.

The Long Plantation on the West side of Douglas Village adjacent to a designated area of Ancient Woodland is a habitat for a wide variety of plant and animal life. Ancient woods contain the relicts of the original-natural woodland. A number of oak trees are estimated to be in excess of 300yrs old.

In any particular district, they tend to be the richest forms of woodland for wildlife, contain natural features, and are also the most important woodlands in the landscape. They form the core of a forest habitat, including wild orchids, mosses and fungi, Roe Deer, Squirrels, Badgers, Green and Great Spotted Woodpeckers, Tawny, Barn and Long Eared Owls, Kestrels, Sparrowhawk, and Woodcock. There is also an abundance of Finches, Buntings and Warblers.

The Douglas and Angus Estate (D & A) policies are an extremely important area in South Lanarkshire for wildlife. The Douglas Water river has been home to a family of Otters for a number of generations. Mink can also be found, as can the much rarer Water Vole.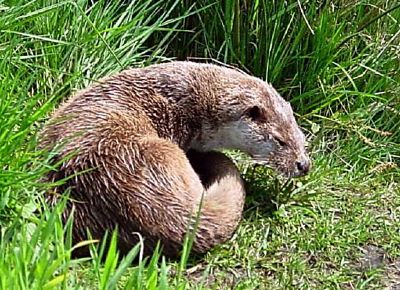 The three lochs / pools and the surrounding reed / marshlands provide a perfect breeding ground for Reed Bunting and Sedge Warbler. Each summer the 'reeling' sound of the Grashopper Warbler, and the 'squealing call of the Water Rail can be clearly heard. Passage migrants such as Green Sandpiper, Wood Sandpiper and Little Stint occur every year. Resident wildfowl include Mute Swans, Greylag Geese, Teal, Mallard, Goosander, and Tufted Duck.

There have been a few rare vagrants recorded in the D & A policies, including the Blue Winged Teal, a resident of N America.

Winter wildfowl visitors include Goldeneye, Wigeon, Pochard, Whooper Swans, and flocks of Feildfare and Redwing.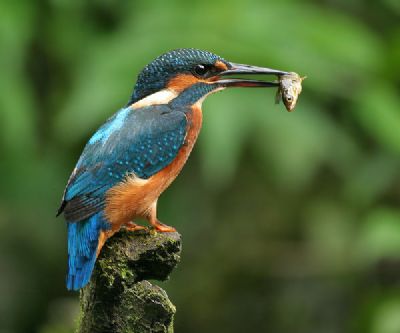 There are a number of Sand Martin colonies, as well as resident Kingfishers. Dippers, the river Canaries, sing there melodic songs, as they bob up and down on a mid stream stone. A dusky summer evening will bring the sight of Pipistrelle and Daubentons bats hawking across the river and adjacent land.

The winding nature of the river as it progresses through Ponfeigh, and the riverbanks sandy structure afford a perfect habitat for Gorse and Broom, resplendent in their summer yellow. Here the Yellowhammer and Whinchat raise their broods as the Douglas Water flows on to merge with the Clyde.
---
Click on the images / words below for further information and lots of great ideas and advice on how to observe, help and protect our wildlife, or go to our environment page.
Images below are the strict copyright of Lindsay Addison.
Click on the images to enlarge.
Great Spotted Woodpecker

Stoat
---